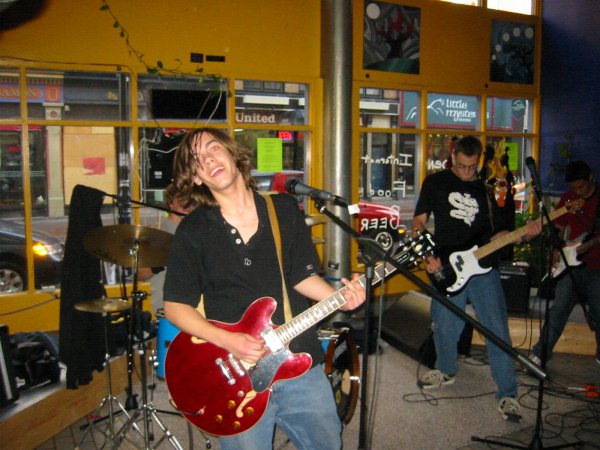 Members: Rob Drisdelle(Bass, Guitar, Vocals), Jamieson MacKinnon(Drums), Auyon Siddiq(Guitar), Neil McPhee(Guitar, Bass, Vocals)
Bio: This band is mostly made of people from the West. This is Rob Drisdelle, the local ringer on the bass' main band. Originally going by the name Bloody Kings of Power, after adding Auyon to the lineup they changed their name to the equally slightly less terrible Audity. During their career they have been finalists in the Your Big Break competition and played shows with The Porcelain Gods, Joel Plaskett and The Salads.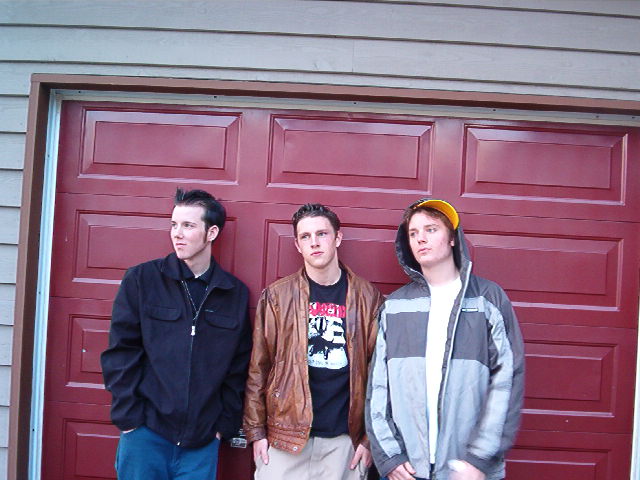 A New Tomorrow
Members: Aaron Stonehouse (Drums), Scott Robinson (Bass, Vocals), Brent Stailing (Guitar)
Bio: The bad boys of the Tantallon pop punk sound. Pop Punk laced with emo straight from the suburbs. This band is the evolution of Morning Star and Yesterday's Gone(funny past, present and future). Word on the street is that they are recording something...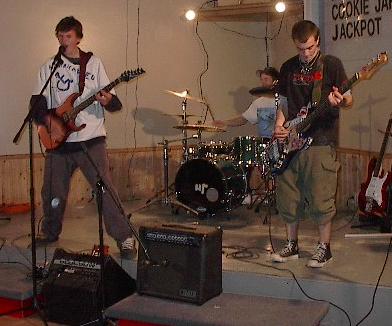 Handicapped
Members: Adam Hersey (Guitar, Vocals), Matt Kaiser (Drums), Luke McLeod (Bass)
Bio: These guys all reside in Timberlea. What more can you say? Brought toogether by their love of Nirvana and punk rock music they "get the party started". Yes that was Pink reference. Back to buisness, expect some Nirvana covering.
THEY DONT EXSIST ANYMORE...
After the demise of this band aside from playing in a Children of Bodom cover band Adam Hersey has started to record a rap album.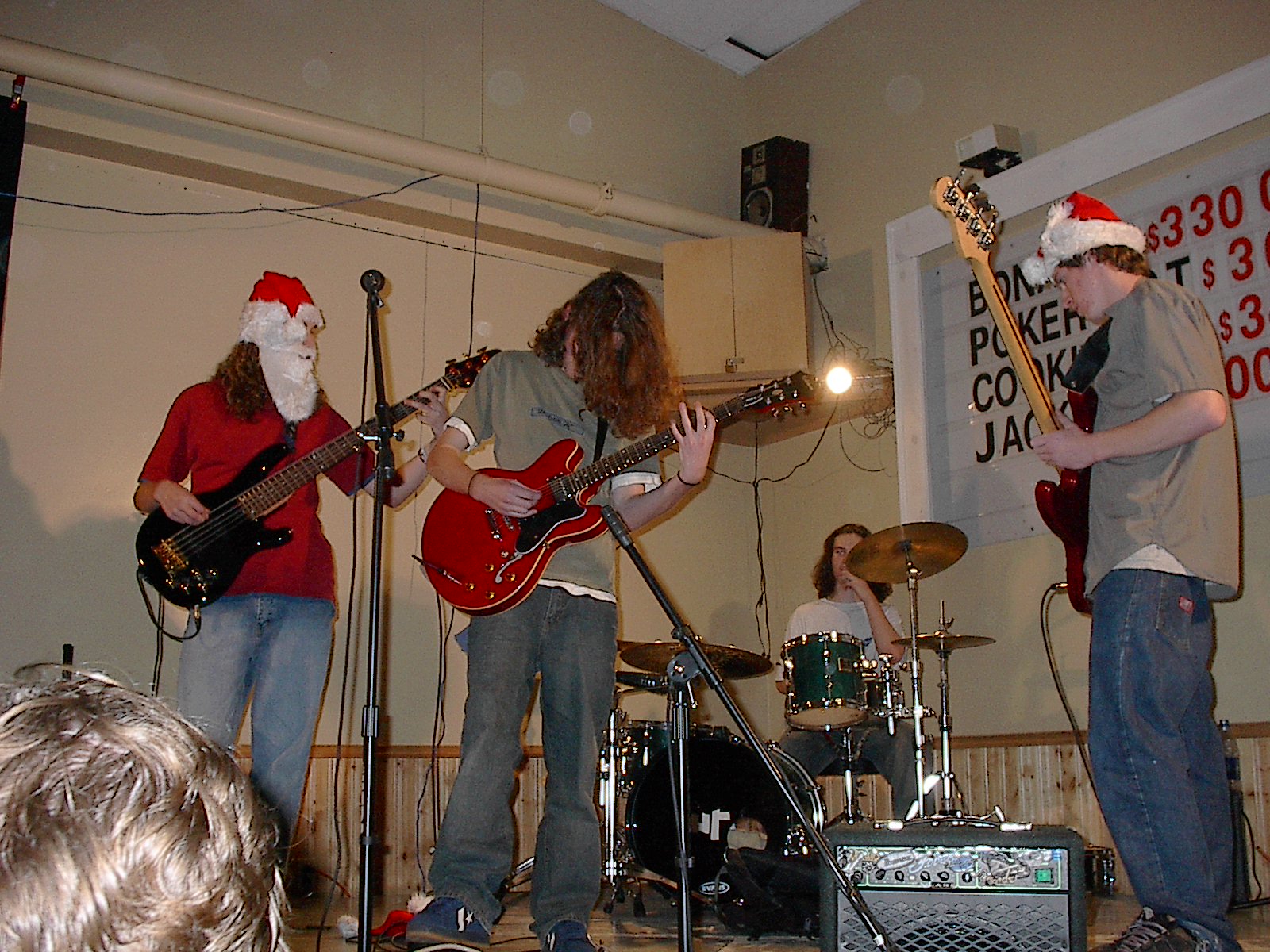 (formerly refrred to as something with funk in it!)
Members: Myles Fillmore (Guitar), Justin Boudreau (Bass), Gabriel Beale (Bass), Zach Frampton (Drums)
Bio: Did I say jazz? What I really meant was funk full flavoured funked out funkadelia. Yes it is very true. The best way to put it is
"they've got groove up the yang and they will funk your face off!"
Zach Frampton went off to Vanier to boldly go where no drummer has gone before and after conquering the puny Montreal musicians returned to take his rightful place behind the drum kit. They released their first CD independantly and is currently retailing for 10 dollars or a goat using the barter system. Fillmore North one the 2003-2004 Citywide Battle of the Bands and have appeared in the Atlantic Jazz Festival.

Relatively sure that they are broken up, possibly for good.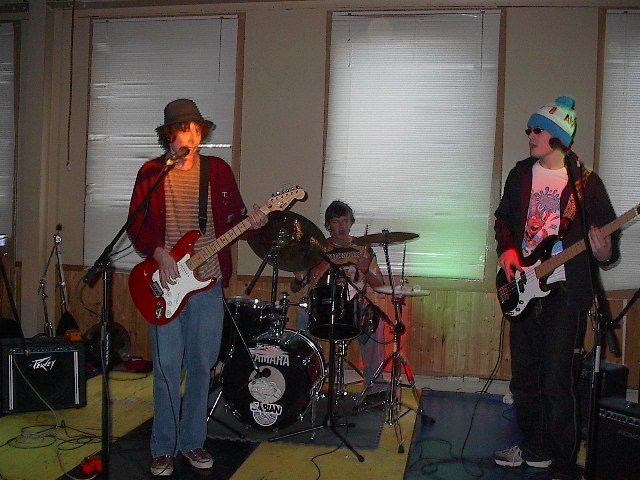 Nancy
Members: Cailean Lewis (Guitar, Vocals), Rob Drisdale (Bass), Josh Pellerine(Drums)
Bio: Formed during the many math class conversations that go on, Cailean let his laziness(somewhat) go with the help of motivational speaker and local ringer Rob Drisdelle. After some drummer hassle they successfully called Josh Pellerine on board to run the trap kit. Teddy Skiffington filled in on the kit once. No one can tell if Cailean is always sarcastic or just a jerk. Sorry ladies he's taken. Cailean was on Seasame Street... well actually Seasame Park. Adam Hersey used to be on drums but no he isn't. Fancy that! Nancy are most likely to be seen canceling a gig because they "haven't practiced".

They don't exsist either, though I did hear drunken exchanges between Rob and Cailean.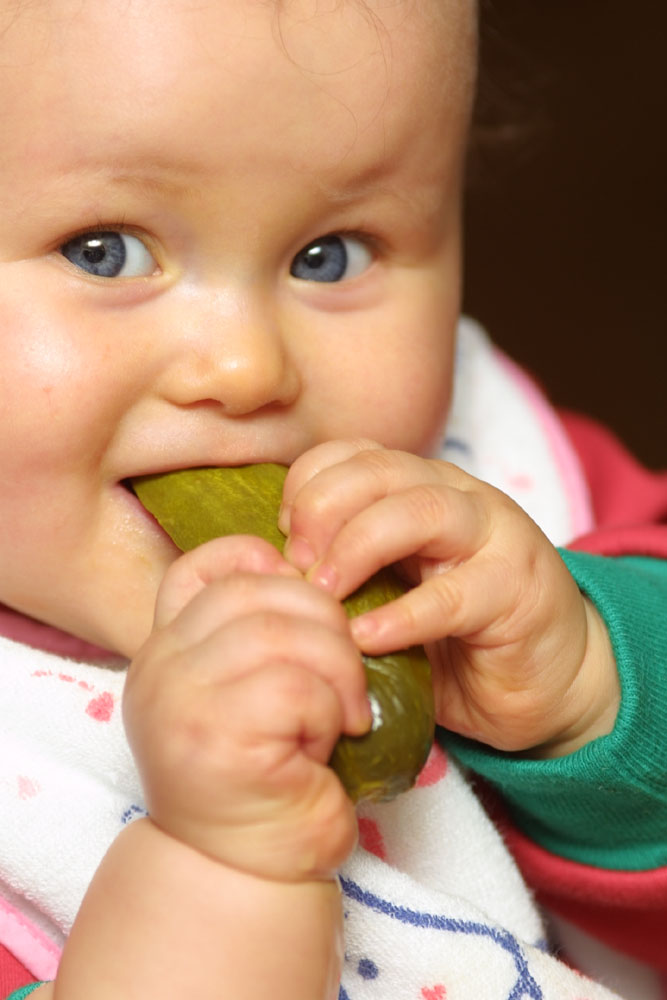 The Letter Unfolds (aka Hali's Screamo Kaaaangs)
Members: Kyle Sparks (guitar, vocals), Danny Hornsby (guitar), Seth Hiltz (drums), Kirk Snair (squeals), Colin